About us...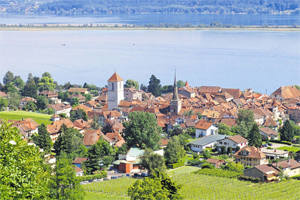 The village of La Neuveville (Switzerland)
head office of Editions PARTITA
Our goal
The Editions PARTITA were created back in 1999 with the aim of promoting quality works, mainly in the area of musical pedagogy. We select every publication with great care, so as to offer original works of high value to our clientele. We regard the musical content as highly important, but also strive for aesthetic excellence in page layout and music notation.
What you will find on our website...
Methods, original compositions and transcriptions for solo guitar, pieces for different types of ensemble, for piano, etc. To see all our publications, click on the Works menu.

You can print and download an extract of each of our books. Sound extracts are also available for some of them. Discover how the specialized press welcomes our publications.

To purchase
Take a look at our Help page. You will find all the information you need to help you find your way and make your purchase.
Ecology
All our works are printed on paper coming from FSC guaranteed wood.
You are an author
Do you wish to edit a composition, an arrangement? Do not hesitate to contact us. We examine every serious proposal.

Back